Cavallino Treporti: a land to be discovered and savoured
Do you love good food and do you like to immerse yourself in the authentic flavours of the area you visit?
Then the cuisine of Cavallino Treporti will certainly win you over with its long culinary tradition and its delicious local products from the sea, land and lagoon.
The kiosks on the beach, the agritourisms immersed in the lagoon, and the refined restaurants of Cavallino Treporti will offer you real gastronomic experiences to be tasted, with delicious traditional Venetian recipes reinterpreted in a modern and creative key by the skilful hands of our chefs and tavern keepers.
A JOURNEY THROUGH THE TYPICAL FLAVOURS OF CAVALLINO TREPORTI
If you love fish, in Cavallino Treporti you will be spoilt for choice, thanks to the countless fish products offered by our Adriatic Sea, including sea bream, sea bass, sole, gobies, crabs, scallops and queen scallops.
On the menus of our restaurants you will always find classic fish starters, a nice plate of spaghetti allo scoglio, the catch of the day grilled or tasty mixed fried fish; but above all, you will be able to taste various traditional fish dishes, such as "brodeto", a delicious fish soup, or "risi e bisi co' a' enguà", or "bacalà in tocio", the true local speciality, always accompanied by a warm polenta.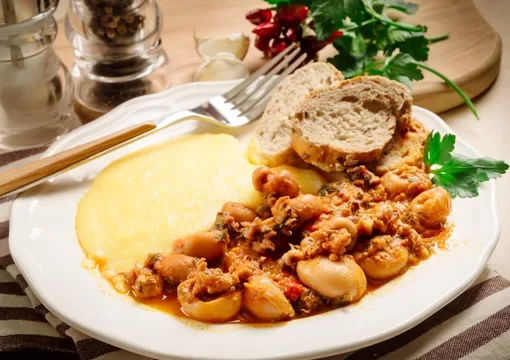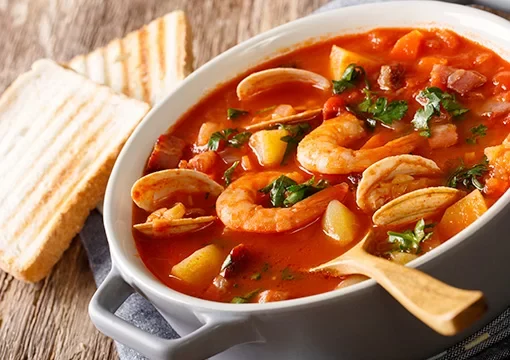 There are also meat dishes, prepared according to ancient recipes, such as Venetian-style liver, tripe soup or the veal tongue in red wine, all rigorously served with 0-kilometre vegetables grown in our lagoon, such as the bitter green Montine asparagus or red radicchio.
All accompanied by fragrant Venetian wines from our wineries located just a few kilometres from Cavallino and Jesolo: among the white wines we find Pinot Bianco and Pinot Grigio, perfect with fish dishes, while among the reds, more suitable with meat, we recommend Lison-Pramaggiore Merlot or Lison-Pramaggiore Cabernet Franc.
WHERE TO EAT IN CAVALLINO TREPORTI
From fish to meat, from vegetables to fruit: in Cavallino Treporti you can enjoy unique culinary experiences that will take you even further into the history, peculiarities and flavours of our area.
We recommend the following restaurants: